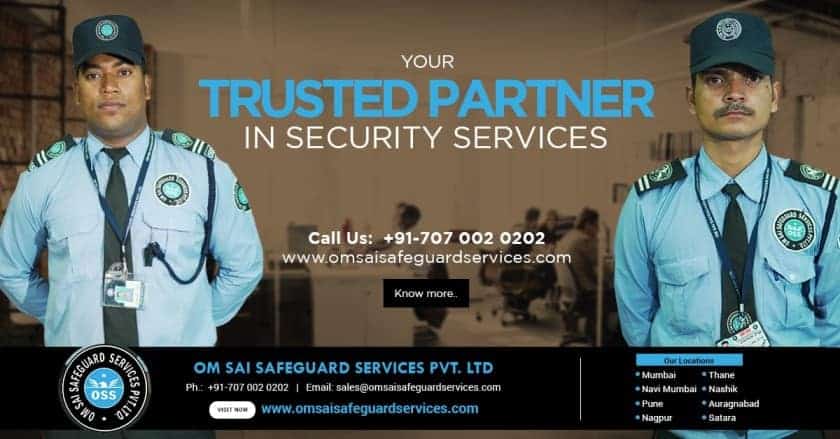 Om Sai Safeguard Services offers Armed and Unarmed Security Services in the city of Aurangabad, Maharashtra. 
Available 24/7, you will find our meticulously selected security officers to be responsive, professional, and reliable. 
We will work with you to define the appropriate level of protection, understanding that each customer's position is unique and can vary at any given period. 
Our organization encourages you with all sorts of security administrations like Bouncers, Industrial Safety Help, Female Security Guards, and so on.
 Our security service officers must pass a background investigation that includes credit, criminal, reference checks, and drug testing. 
Our unarmed and armed security service officers are of sound character, illustrate good judgment skills, and present a professional and neat appearance. 
Best Security Services in Aurangabad Our armed and unarmed security services men are trained well enough to handle threat scenarios on soft and hard target places.
Security Services In Aurangabad
Challenging targets include places like power plants and government building which requires Armed and Unarmed security services especially in a place like Aurangabad.
And soft target include places like clubs, hotel, market, and so on, which mainly requires unarmed security forces. 
These armed security service officers must possess a minimum of two years of security experience.
 They are also expected to display knowledge of their legal authority and the boundaries of an armed security officer. 
Their duties on behalf of clients typically include:
Safeguarding the personnel, visitors, guests, and property.
We are conducting patrols and stationary tours.
I am communicating with citizens and providing support to the public.
We are preparing daily logs and reports.
Rendering assistance as necessary.
Om Sai Safeguard services are among the best "Armed and Unarmed Security Services" agencies in Aurangabad, Maharashtra. 
They provide security services, including lady security services, by providing quality services with a quick response time.
They have solidified the idea of professionalism in the field of Armed Security Services.