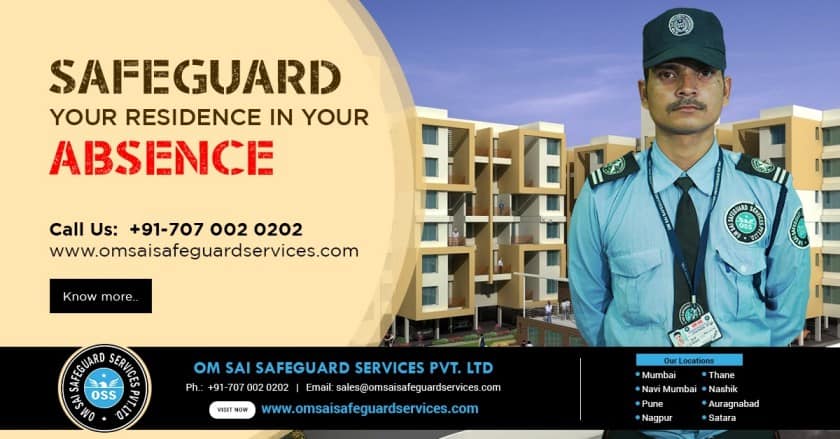 Residential Security Services, Om Sai Safeguard Services is a well-reputed security service agency in the state of Maharashtra, especially in the city of Aurangabad. 
Our security service agency is validated and trusted by the government of  Maharashtra for providing the utmost security facilities. 
We present all kinds of security services like commercial, armed, unarmed, residential, and so on.
 Security services are a must in any residential sector for the safeguard purpose of the families and children residing in the buildings.
Our Residential Services are hired by the major residential sector companies including services to the various multiplex, apartment, and township localities. 
Our residential security servicemen go through a heavy background check to eliminate the chances of faulty records with the law. 
Every security personnel identification documents are checked are verified by the police.
All our security servicemen trained with basic self-defense and attacking techniques to protect innocent residents from an imminent threat. 
Years of work experience have established our legitimacy as the most reliable security service agency in the state of Maharashtra.
With more experienced security personnel at work, they are more familiar with the risk involved in the job and understand how to manage them efficiently.
Security Services in Aurangabad (India) Aurangabad Maharashtra
Our security services can offer upto12 hours of duty hours bracket per day. 
Each security personnel in the agency has a pleasant attitude towards the residing people.
Even though the servicemen encouraged to have a stoical attitude by the agencies, that doesn't imply they should be rude or lack basic mannerisms.
Om Sai Safeguard services provide professionally trained security personnel to perform the best at their services.
Their training includes self-defense learning, technology learning, and communication skill development, etc.
They are also provided with guidance for housekeeping methods so that they can help you with basic housekeeping functionalities. 
Like dusting, brooming, and cleaning. Which are essential for residential sectors in Aurangabad.