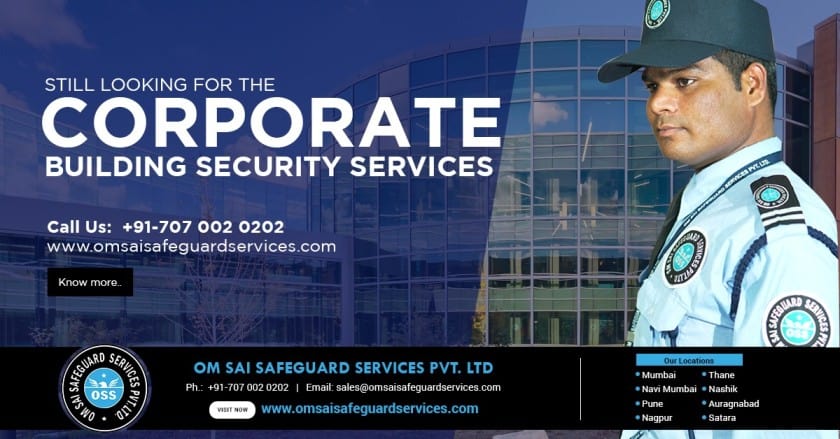 Corporate Security Services, Om Sai Safeguard Services helps you take care of your workplaces from any damage, theft, or accidents in Corporate Security Services. 
We provide security guards, Armed security guards, Lady security guards, and bouncers as per your requirements. 
Our security services extend to the State of Maharashtra along
With Aurangabad. The following services fall under our list:
 Providing 24 hours security service at your place. 

 You are protecting your land from fire explosion, wastage, etc. 

 Recording Irregularities. 

 It was fitting and monitoring CCTV. 

 Examination of disturbances.
 Security Services in Aurangabad
Om Sai Safeguard services provide Bodyguard Services at Aurangabad, Commercial Security Guards in Aurangabad. Bodyguard Services at Aurangabad.
Our Corporate Security Services include providing training to our protection safeguards, managers, and safety officers on different locations for various types of clients.
We choose professional company personnel to guard your premises and represent your face to the corporate world.
"Corporate security services" carried by our personnel help to keep in mind human safety during emergencies.
The abilities of our personnel ensure that your factories, industries, warehouses, and offices operate 24 hours without any problem. 
We have developed a stellar reputation throughout these years by providing creative, devoted, and customized security solutions to our customers.
Our solutions go beyond the primary safety applications to supply our clients. We also aim to be a preferred link between our customers and the executives.
 This helps to develop a long-term and cordial relationship between them. 
The workforce that we have with us enables us to provide efficient and smooth services at a reasonable price.
Our assistance is backed with the most protected features and executed by well-trained recruits and devoted to their job. 
We dedicate ourselves to offering your organization an exact and constant solitary point of contact service for every component of your safety.